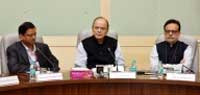 New Delhi, Dec 19 Implementing the GST, the improvement in India's World Bank ease of doing business rankings, the sovereign rating upgrade by US agency Moody's and bank recapitalisation all contributed to make 2017 a historic year, the Finance Ministry said on Monday.
Besides, the cleansing of the financial system instrumentalised by demonetisation as well as the reversal of the deceleration in GDP growth in the second quarter ended September, following five consecutive quarters of decline, were listed as the other major achievements by the Ministry during the calendar year.
"One year after the landmark move to cleanse the economy of black money, the successes of operations after demonetisation continued with high denomination notes brought down by 50 per cent of value in circulation, 50 lakh new bank accounts opened to enable cashless transaction of wages, 26.6 per cent increase in number of taxpayers added and 27.95 per cent increase in number of e-returns filed, 2.24 lakh shell companies were struck off and undisclosed income worth Rs 29,213 crore detected and admitted," an official statement said.
"Enhancing the quality of life remained primary goal for government when it put into implementation the recommendations of the 7th Central Pay Commission to benefit more than 48 lakh Central government employees," it added.
The Ministry recalled that during the year, Moody's Investors Service upgraded India's local and foreign currency issuer ratings after a hiatus of nearly 14 years, while the country also climbed by 30 places to reach 100 in the World Bank's latest ease of doing business rankings.
The Goods and Services Tax (GST) rolled out from July 1 is a "transformational" reform which overhauled the indirect tax system in place since Independence.
The Ministry also said the government has constituted a task force last month to review the Income-tax Act and "draft a new direct tax law in consonance with economic needs of the country".
Moreover, on the revenue front, the Centre has raised a total of Rs 52,389.56 crore in the current fiscal through disinvestment till December 15.
The second quarter GDP figures show a "reversal of the deceleration trend", the statement said.
"The real GDP growth data for the second quarter of fiscal 2017-18 showed growth at 6.3 percent, a substantial increase from 5.7 per cent in the first quarter," it added.
Other major "accomplishments" listed by the Ministry, include the institutionalisation of the Monetary Policy Committee of the Reserve Bank, the decision to phase out the Foreign Investment Promotion Board and India's first International Financial Services Centre that became operational at the Gujarat International Finance Tec-City at Gandhinagar.