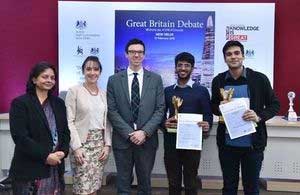 The British High Commission New Delhi's much acclaimed annual debate competition GREAT Britain Debate took place at Lady Shri Ram College on Thursday 15 February 2018.
The GREAT Britain Debate competition celebrates India and the UK's traditional passion in vibrant discussion and debate. The theme of the debate this year was Privacy/ Cyber with 18 participating teams (36 students) from different colleges and Universities across Delhi and NCR.
The debate competition culminated in a hard fought final debate focussing on the motion that "this house believes that the 'right to be forgotten' is an integral part of the right to privacy".
After a close debate the jury declared Parth Maniktala and Shivam Bakshi of Hansraj College as the winners. Ayesha Syeda and Akansha Chettri form the Sri Venkateshwara College received the Runners up trophy.
The day culminated in Chevening alumni Dr Anjali Kaushik making a key note speech on "Transforming the privacy".
The GREAT Britain Debate is in its 7 year. It is a key way which the British High Commission both engages with the next generation of India's future leaders and celebrates the UK and India's deep interest in the debating culture.
The GREAT Britain Debate is organised by the British High Commission in partnership with Chevening scholarships India.