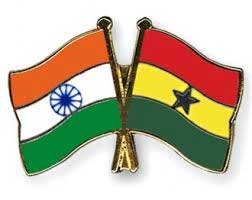 Accra, Jan 27 (IANS) Ghanas trade with India continues to surge and reached $1.7 billion in the first six months of the 2017-18 fiscal, maintaining the rising streak that began in 2011 when the $1 billion mark was first crossed, Indian High Commissioner Birender Singh Yadav has said.
"We have attached so much importance on trade with Ghana and it is for this reason that bilateral trade has become a partnership that has become strong and progressive" Yadav said while addressing the media on Saturday on the eve of India's 69th Republic Day,
Yadav said the latest report by the Ghana Investment Promotion Centre (GIPC) listed India in the third place with 13 projects after China and the UK.
China registered 25 projects last year and the UK followed with 19.
However, in terms of FDI, India ranks second with investments of $411.75 million behind the Netherlands at $2.44 billion.
Yadav said India has always treated its relationship with other countries on an equal basis. "We have never believed in political influences," he added.
This, however, comes at a time when there is growing resentment against the sudden rise of Indian soap operas on Ghanaian television channels. "Kumkum Bhagya" is one of such TV serial that had become popular here.
Yadav disagreed that the Indian TV shows were an attempt by India to "colonise Ghana culturally".
"It is baseless to think India has undertaken to do such a thing. We believe in peaceful co-existence and believe in an open society," Yadav added.
Director of Creative Arts at the Ghana National Commission on Arts and Culture, Socrates Safo told IANS: "It cannot be true that there is any cultural colonisation because we have an open policy when it comes to receiving other cultural groups in the country."
"We also perform in other countries. So there should not be any fear with our interaction with the cultures of other countries," he added.
As part of the celebrations, the High Commission brought in a Kathak classical dance group from north India for a two-day performance.
Yadav said the reason for getting cultural troupes to perform in Ghana was out of the desire to promote the cultures of both countries as Ghanaian troupes also had the opportunity to perform before audiences in India.