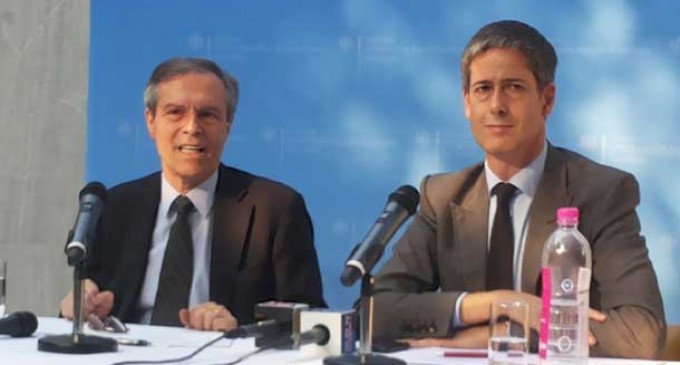 By TN Ashok / Diplomatic Editor
New Delhi, Nov 25: German Ambassador in India Michael Steiner today expressed confidence that the controversy surrounding a reported government proposal to scrap German as 3rd language from the courses of Kendriya Vidyalaya schools would be resolved peacefully.
"The German Chancellor Angela Merkel and the Indian Prime Minister Narendra Modi have talked to each other on this issue. A practical and good resolution is expected to this issue in keeping with the law of the land in the country", he told newsmen today at the German embassy.
"The matter is also before the supreme court , so I should not say anything more on this matter", he said when newsmen persisted with questions on whether he had met the HRD Minister Ms Smiriti Irani in this matter.
" There have been discussions of late about teaching German in India, but I am confident that after the meeting of Indian Prime Minister Narendra Modi and German Chancellor Angela Merkel, the countries will find a solution to the issue, he said referring to Prime Minister Narendra Modi's meeting with  German Chancellor Angela Merkel during the G20 Summit and his assurances to her that government would look into the controversy surrounding the issue.
The German Ambassador spoke about strengthening ties between the countries through the medium of the language. "The countries should resolve the issue to preserve the cultural identity and to continue our programme of learning German language," Mr. Steiner was also reported as saying Saturday at a DPS Mathura Road function by the media.
He had said that Indian students are the best learners of German language. "I have visited many countries where people learn German language, but I must admit that the best learners of the language are in India," he said.
An MoU was signed between Kendriya Vidyalayas and Goethe Institute-Max Mueller Bhawan in 2011 to offer German as the third language, but after the HRD Ministry's recent decision of not reviving the MoU, over 70,000 students across 500 Kendriya Vidyalayas will be forced to study Sanskrit as their third language at a time when they have their final examinations in the next three months, media reports  suggested.
Also, the HRD Minister Smriti Irani had reportedly taken exception to the German Ambassador meeting some Sanskrit scholars and Sanskrit institutions recently in connection with the issue. She had said that it was not in the nature of an envoy to lobby with such sanskrit vidyapeeths.