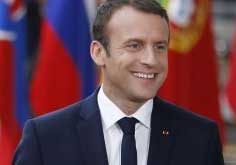 New Delhi, March 2 (IANS) French President Emmanuel Macron will arrive here on March 9 for a four-day state visit to India, during which he will hold a summit meeting with Prime Minister Narendra Modi, the External Affairs Ministry said on Thursday.
According to the Ministry statement, Modi and Macron will meet on March 10.
"The visit of President Macron is aimed at strengthening the bilateral economic, political and strategic dimension of our engagement," it said.
Modi earlier met Macron soon after the latter was elected President, during a visit to Paris in June last year.
Macron will also co-chair the founding conference of the India-initiated International Solar Alliance (ISA).
India-France relations, elevated to that of a strategic partnership in 1998, are one of the most important and comprehensive bilateral engagements and are marked by intense and frequent high-level exchanges and deep political understanding.
"We have enhanced and ongoing cooperation in the defence, maritime, space, security, and energy-related sectors, and are increasingly working together on all issues of concern including terrorism, climate change, sustainable growth and development, infrastructure, smart urbanisation, science and technology cooperation, and youth exchanges," the statement said.
Trade between India and France in 2016-17 fiscal reached $10.95 billion. France is the ninth largest foreign investor in India with a cumulative investment of $6.09 billion from April 2000 to October 2017.
Around 1,000 French companies have operations in India while about 120 Indian companies have invested one billion euros in France and employ close to 7,000 people.
According to the statement, an India-France CEOs Forum will also take place during Macron's visit.
"The visit is also aimed at forging not only strong manufacturing and technology partnerships, but also greater people to people contacts especially through greater exchanges of students and researchers," it stated.
The Indian community, including NRIs in mainland France, number around 110,000 and largely hail from the French enclaves of Puducherry, Karaikal, Yanam, Mahe and Chandernagore.
Modi and Macron shall co-chair the founding conference of the ISA on March 11.
The ISA, launched at the UN Conference of Parties (CoP) climate summit in Paris on November 30, 2015, by Modi and then French President Francois Hollande, is conceived as a coalition of solar resource-rich countries to address their special energy needs and provide a platform to collaborate on dealing with the identified gaps through a common, agreed approach.
It is open to all 121 prospective member countries falling between the Tropics of Cancer and Capricorn.
The interim secretariat of the ISA was inaugurated by Modi and Hollande in Gurugram on January 25, 2016.
The framework agreement of the establishment of the ISA was opened for signature in Morocco on November 15, 2016.
The alliance became a legal entity on December 6, 2016, after the deposit of the 15th ratification instrument.
At least 55 countries are expected to attend the March 11 event, half of which will be represented at heads of state or heads of government level. The countries have been invited jointly by Modi and Macron.
The last French presidential visit took place in 2016 when Hollande visited as the chief guest of that year's Republic Day celebrations.