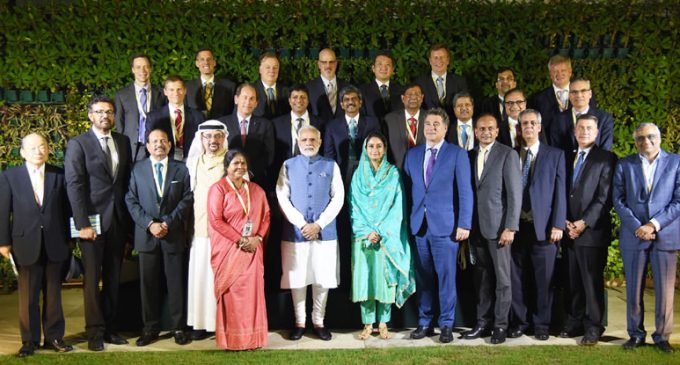 New Delhi, Nov 3 (IANS) Various CEOs of global food processing and related companies on Friday interacted with Prime Minister Narendra Modi and appreciated the government's structural reforms and initiatives like GST and the liberalization of the FDI regime in India.
An official statement said the CEOs and officials complimented the Prime Minister on the "massive improvement in India's rank in the recent World Bank Doing Business Report".
"Many CEOs said that they were inspired by the Prime Minister's vision of doubling farm incomes and the pace and progress of economic reforms over the last three years under his leadership," the statement said.
The participants stressed that the food processing sector was vital for raising farm productivity food and nutrition security, creating jobs, and adding value to agricultural produce.
"The CEOs presented an overview of their engagement and initiatives for inclusive growth in India's food processing, agriculture, logistics and retail sectors. They showed keen interest in opportunities that exist for strengthening the post-harvest infrastructure. They reaffirmed their commitment to be a part of India's growth story."
Thanking the CEOs for sharing their views, the Prime Minister said their observations indicated tremendous enthusiasm about India.
Modi welcomed the measures being taken by the participants in raising agricultural productivity and farmers' incomes.
"In particular", he said, "India's rising middle class and the policy-driven initiatives of the government are opening up several win-win opportunities for all stakeholders in the food processing ecosystem."
The Prime Minister underlined the the government's resolve to reduce input costs for the farmer and eliminate losses due to wastage of farm produce.
He invited the global CEOs for a deeper and more productive engagement with India.
The CEOs and officials who met Modi where from from Amazon (India), Amway, Britannia Industries, Cargill Asia Pacific, Coca-Cola India, Danfoss, Future Group, GlaxoSmithKline, Ise Foods, ITC, Kikkoman, LuLu Group, McCain, Metro Cash & Carry, Mondelez International, Nestle, OSI Group, PepsiCo India, Sealed Air, Sharaf Group, Spar International, The Hain Celestial Group, The Hershey Company, Trent Ltd, and Walmart India were present at the meeting.