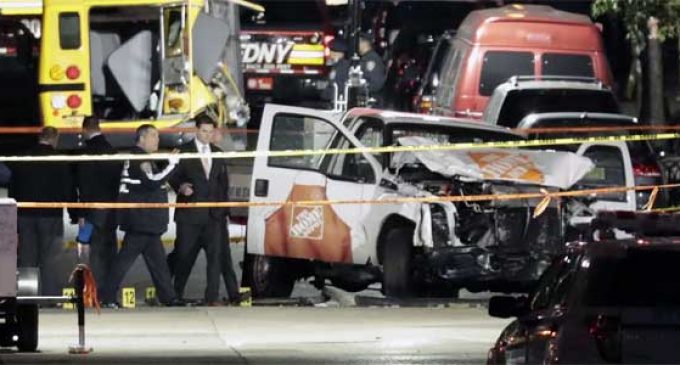 New York, Nov 1  Eight persons were killed and 12 injured after a truck ploughed into pedestrians in Lower Manhattan in New York on Tuesday, the Mayor said, calling the attack an "act of terror". The suspect has been arrested.
Based on the information authorities had at the moment, the incident was "a particularly cowardly act of terror aimed at innocent civilians," Mayor Bill de Blasio said at a press conference, Xinhua news agency reported.
US President Donald Trump tweeted: "In NYC, looks like another attack by a very sick and deranged person. Law enforcement is following this closely. NOT IN THE U.S.A.!"
"We must not allow ISIS to return, or enter, our country after defeating them in the Middle East and elsewhere. Enough!" Trump said in another tweet.
"My thoughts, condolences and prayers to the victims and families of the New York City terrorist attack. God and your country are with you!" the President wrote on Twitter.
Speaking at the conference alongside with the mayor, New York City Police Commissioner James O' Neil said the suspect was a 29-year-old man, who was not from New York. He said authorities would not release his identity immediately.
At 3.05 p.m., a man driving a rented Home Depot pickup truck entered the West Side Highway bicycle path at Houston Street, according to O' Neil. He said the man began driving southbound, striking a number of pedestrians and bicyclists along the route.
At Chambers Street, the truck collided with a school bus, injuring two adults and two children, according to the police.
After the collision, the driver exited the vehicle, holding up a paintball gun and a pellet gun. He was shot by a uniformed police officer and was then sent to a hospital.
According to reports, the driver shouted "Allahu Akbar", which means "God is great" in Arabic.
O'Neil was asked to confirm whether the driver made such statement at the press conference. He said that the driver "did make a statement when he exited the vehicle" although he declined to elaborate on it.
Video footage shot by an office clerk working in the 52-story 7 World Trade Center building showed that all main streets around the usually bustling financial district had been vacated, with only police vehicles spotted moving or parking in the area.
The female clerk, who asked to be identified only by her surname Jiang, told Xinhua she and her colleagues were advised by police to stay in the building until further notice.
An eyewitness named John Williams said: "When I was walking down the street towards the incident, I saw a group of women and children were running towards me, one of them was saying 'he has a gun, he has a gun.' I turned around and heard the gunshot about 30 seconds later."
"There was a white pickup truck with Home Depot logos. The front of the truck was completely smashed in and there was smoke," he added.
The attack occurred hours before an annual Halloween parade was to take place in Lower Manhattan, which would be packed with thousands of people in costumes.
Authorities said more police officers and resources were deployed in iconic places in the city.
Also at the press conference, New York State Governor Andrew Cuomo, who just hours ago wished New Yorkers a safe and happy Halloween, said there was no evidence of ongoing threat after the truck attack.