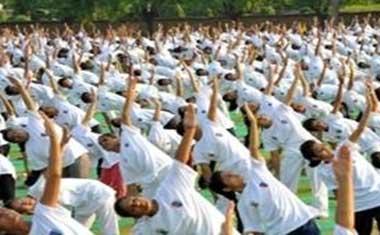 Addis Ababa, June 22 (IANS) Hundreds of people came together at the spacious Hilton Hotel in the Ethiopian capital to mark the International Yoga Day.
"I have been practicing yoga for a long time. But for many Ethopians who do not know much about yoga, today was a very good start. The instructors explained all the 'asanas' (postures) for beginners," Jhonette Stubbs, a photographer, told IANS on Sunday.
"There is a separation between mind, body, and spirit. In yoga there is a way to connect each of these things. You can practice it in a way that is suitable for you," Stubbs added.
Sofanit Mulugeta, a management consultant, said yoga helped her remain stress free.
According to Omer Seid, a communications and media professional, while practising yoga he has "come to realise spirituality".
The UN General Assembly declared June 21 as International Yoga Day on December 11 last year.
Ethopia was among the 177 countries of the 193-member UN that supported the India-sponsored resolution to declare June 21 as International Yoga Day.