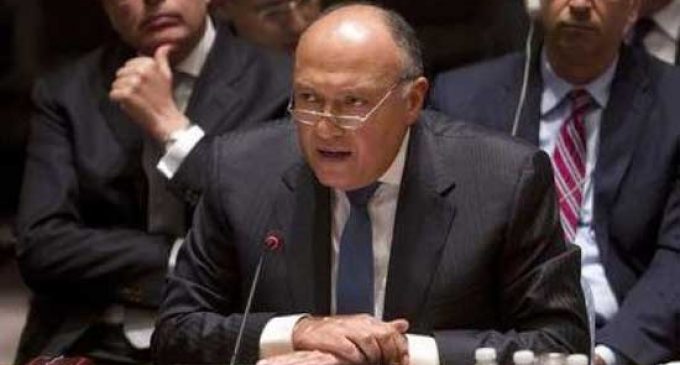 The Handover Ceremony of the 2018 Chairmanship of the Group of 77 and China to Egypt takes place today January 12th at the UN headquarters. Ambassador Amr Aboul Atta, Egypt's Permanent Representative to the United Nations, will take over the Presidency from Ecuador which chaired the Group last year.
The Foreign Ministry Spokesperson Counselor Ahmed Abu Zeid stated that Egypt's Chairmanship of the Group of 77 and China for this year comes at an important stage in the multilateral course of action, especially within the United Nations system, as there are ongoing reform procedures inside the UN at different levels, be it at the developmental and administrative levels, or peace and security. Further, He underscored that presiding the Group constitutes an opportunity for Egypt to act as a balanced voice that would articulate the positions and views of the Group Member States, and the issues of developing countries in the various economic, social and environmental fields. As well, Egypt will defend on the developmental requirements of these countries according to their own priorities and needs.
The Spokesperson highlighted that the Group of 77 and China is the largest negotiating forum for developing countries at the United Nations, which aims to promote the economic and developmental interests of these countries, as well as pushing ahead with the South-South cooperation efforts that complements North-South cooperation. In addition, Egypt's assumption of this post represents a new forum to highlight the role of Egyptian diplomacy during 2018 at the multilateral course of action, and a chance to build on Egypt's achievements as a member of the UN Security Council over the past two years, as well as a member of the African Union Peace and Security Council. Further, this new post shall build on Egypt's role within the General Assembly in general, embodying the Egyptian continued efforts within the Organization.
Abu Zeid added that Egypt's Chairmanship of the G77 + China coincides with a delicate phase in which the developing countries' economies are facing growing economic, developmental and environmental challenges. Henceforth, the 2018 Egyptian Chairmanship attaches high priority to defending developing countries' questions, and negotiating on their behalf regarding the various priority areas.
The Egyptian Chairmanship will mainly focus on the reform issues of the UN system, especially the development structure reform, and the administrative reform of the Organization. It will further work on bolstering international cooperation in implementing the International Development Agenda 2030, and supporting and financing development, especially in Africa.
In addition, the Egyptian Chairmanship focuses on the environmental issues and climate change negotiations as well. In 2018, Egypt intends to provide the necessary momentum for the youth employment issues, which is directly linked with the developmental dimension in countries, especially where the youth represent a majority of the population.