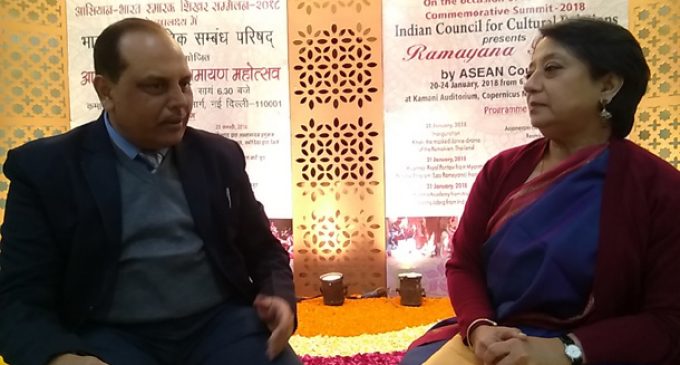 Jan 20 The Association of South-East Asian Nations (ASEAN) – regional grouping comprising 10 countries namely Indonesia, Singapore, Philippines, Malaysia, Brunei, Thailand, Cambodia, Lao DPR, Myanmar and Vietnam have energised their ancient link with India in a contemporary setup to become a force in Asia's resurgence. Commerce, Connectivity and Culture (3cs) are important in India's Engagement with ASEAN.
India & ASEAN are observing 25 years of their dialogue partnership, 15 years of summit level interaction and 5 years of strategic partnership. These will culminate in a commemorative summit on a theme " Shared values, common destiny " on 25th January 2018. In an all time first all ten countries Head of States / Govts from ASEAN countries will be the Guest of Honour at the 68th Republic Day parade in New Delhi.
It is towards mark the beginning of Commemorative summit that Indian Council of Cultural Relations ( ICCR ) presented "RAMAYAN Festival" by ASEAN countries from Jan 20-24, 2018 at New Delhi. Adaptations of Ramayana are numerous and included as national epics in several countries of South East Asia with local interpretations, perspective & choreography.
Diplomacyindia.com was invited to cover this colourful event presented by ICCR and also had a privilege to interview the Director General, Ms. Riva Ganguly Das, IFS on this occassion
[embedyt] https://www.youtube.com/watch?v=zLcJ4yAHaW8[/embedyt]