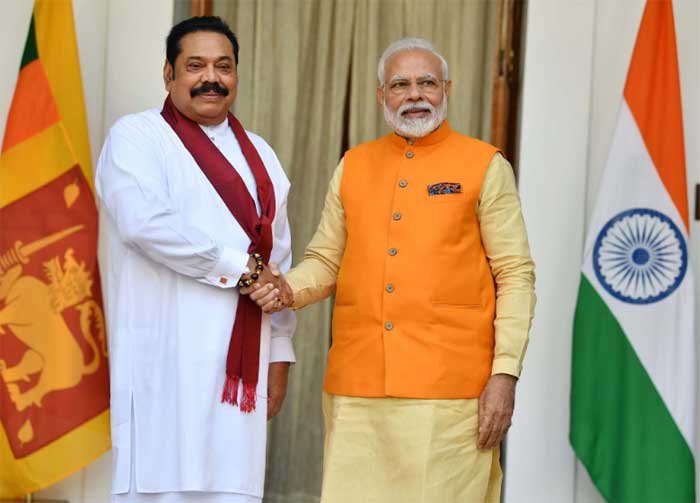 New Delhi, Feb 9 (IANS) Prime Minister Narendra Modi on Saturday said that he was confident that the Prime Minister Mahinda Rajapaksa's government was going to fulfill the expectations of the Tamil people within united Sri Lanka.
Rajapaksa is on a visit to New Delhi. After assuming office, he accepted Prime Minister Modi's invitation and chose India for his first foreign tour.
Prime Minister Modi said he was confident that the Sri Lankan government "will realize the expectations of the Tamil people for equality, justice, peace and respect within a united Sri Lanka".
For this, he said, it will be necessary to carry forward the process of reconciliation along with the implementation of the thirteenth amendment to the constitution of Sri Lanka.
The two prime ministers during their meeting on Saturday also discussed joint economic projects in Sri Lanka and plans to enhance business and investment relations. The recent direct flight between Chennai and Jaffna is part of India's efforts in promoting tourism and connectivity, Modi said.
Revealing that the construction of more than 48,000 houses for internally displaced people in the northern and eastern region of Sri Lanka has been completed, Modi said the construction of several thousand houses for the Tamil people of Indian origin is also progressing in the up-country.
India and Sri Lanka on Saturday in New Delhi also agreed to furthering cooperation with each in combating terrorism in South Asia.
Prime Minister Modi said, "Terrorism is a major danger in our region. We both countries have fought this problem firmly. There were painful and barbaric terror attacks on Easter in Sri Lanka in April last year. These attacks were not only a blow to Sri Lanka, but also to humanity. Today, we discussed furthering our cooperation against terrorism."
He also revealed that Sri Lankan police officers have started participating in anti-terrorism courses in India's training institutes. "We are also committed to further strengthening the contacts and cooperation between the agencies of the two countries," he said.