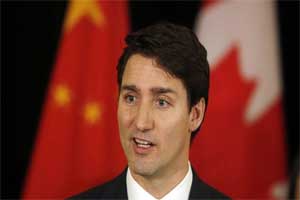 Ottawa, Jan 22  Canadian Prime Minister Justin Trudeau will leave for Davos, Switzerland on Monday to attend the World Economic Forum annual meeting, according to the Canadian Prime Minister's Office.
During the four-day meeting,Trudeau will meet other world leaders, global business leaders, and representatives of civil society, said the Prime Minister's Office on Sunday, Xinhua news agency reported.
Under the theme "Creating a Shared Future in a Fractured World," this year's Forum will encourage leaders from all sectors to explore bold ideas and exciting opportunities for collaboration and co-operation with a view to improving global governance and building more sustainable economies that work for everyone.
The Canadian Prime Minister will be joined in Davos by Minister of Innovation, Science and Economic Development Navdeep Bains, Minister of Finance Bill Morneau, Minister of Foreign Affairs Chrystia Freeland, and Minister of Status of Women Maryam Monsef, each of whom will have their own program of meetings during the meeting, said the office.
The World Economic Forum, established in 1971 as a not-for-profit foundation, is the International Organization for Public-Private Cooperation and committed to improving the state of the world,
The forum engages the foremost political, business and other leaders of society to shape global, regional and industry agendas.