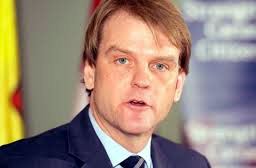 New Delhi, July 04, 2014 Canada's Citizenship and Immigration Minister,Chris Alexander, will be visiting India from 7 to 9 July, 2014. While in New Delhi and Mumbai, he will meet with senior government officials, business leaders and entrepreneurs to discuss the strong ties between the two countries and enhance the bilateral relationship.
Minister Alexander will also discuss economic immigration to Canada and highlight Express Entry, a new economic immigration application management system..
In New Delhi, Mr. Alexander will address members of Young Indians (Yi), an organisation which is an integral part of the Confederation of Indian Industry (CII). He will also announce CAN+, an expedited tourist visa process for frequent travelers to Canada, and address senior executive members of key IT companies.
In Mumbai, Minister Alexander will address companies from Ryerson University's Zone Start-up India at the Bombay Stock Exchange and explain the benefits of the new Start-up Visa for entrepreneurs. He will also speak to university students about global mobility and opportunities to study in Canada.
"India continues to be an important source country of immigrants to Canada. More than one million Canadians trace their roots to India and Canadians of Indian descent continue to contribute significantly to building a successfully pluralistic and prosperous Canada", said Minister Alexander.
Minister Alexander's visit will build upon the already high levels of engagement that have occurred between Canada and India over the past year.