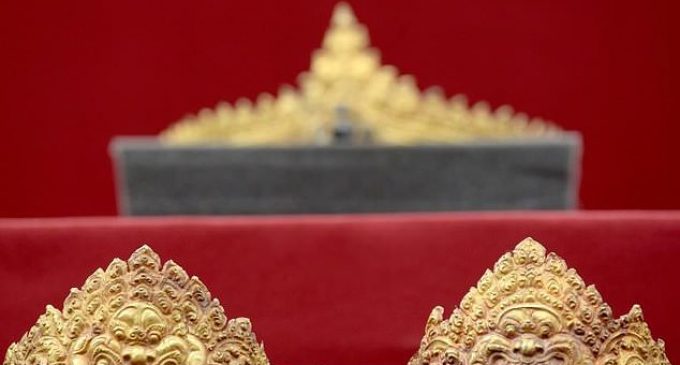 Phnom Penh, Dec 2 (IANS) Cambodia on Saturday welcomed home a set of 10 Angkorian-era gold jewellery pieces which were stolen from the country decades ago, according to a statement from the Ministry of Culture and Fine Arts.
The ancient artefacts, which were returned from Britain, included a head cover, a pair of pectoral ear pendants, a pair of earrings, a necklace, a pair of armbands, one belt and one chest band.
The artefacts, which adorned a statue during the Angkorian period between the early 9th century and the early 15th century, were looted from Cambodia during the civil war in the 1970s, Xinhua news agency reported.
The London-based gallery Jonathan Tucker Antonia Tozer Asian Art voluntarily returned the jewellery items after Cambodia had concrete evidence to prove that they were stolen from the country, the statement said.
Cambodia identified the artefacts when the gallery placed them for sale in November 2016.
"This success clearly reflects the Cambodian government's high attention in protecting, preserving and developing cultural heritage properties and in reclaiming antiquities which had been stolen (from Cambodia) during the war," it said.
According to the statement, the gold jewellery items were put on display at the National Museum in Phnom Penh.
In recent years, Cambodia has successfully reclaimed a number of antiques that had been looted from the country during the war time. In 2013 and 2014, five ancient statues had been repatriated to the country from the US.
Source : Sarkaritel.com
Photo Courtesy : AFP