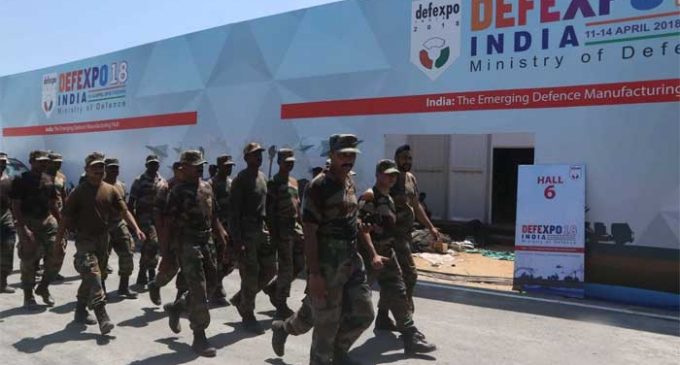 New Delhi, April 11 (IANS) Ahead of India's premier defence trade event to be held in Chennai later this week, Britain on Tuesday said it seeks a "two-way street" defence cooperation with India.
"The UK government and UK defence companies are seeking to deepen and broaden their strategic defence equipment partnerships with India at DefExpo 2018," the British High Commission here said citing a statement issued by the country's Department for International Trade.
"The UK's attendance at DefExpo 2018 will focus on creating a genuine 'two-way street' of defence equipment collaboration, investment and technology transfer," it said.
The 10th edition of defence manufacturing exhibition DefExpo will be inaugurated by Prime Minister Narendra Modi on April 12.
DefExpo 2018 — being held around 35 km off Chennai — would be spread over 290,000 square feet area and also have a live demonstration area.
According to Defence Production Secretary Ajay Kumar, there are 154 foreign companies participating in the DefExpo this year.
According to the British High Commission statement, Britain is keen to share its knowledge and experience on developing innovative and cost-effective defence equipment capabilities as the Indian armed forces continue to modernize.
It stated that Britain's Minister for Defence Procurement Guto Bebb will be leading the country's delegation at the expo, accompanied by the British High Commissioner to India Dominic Asquith, and the Deputy Chief of Defence Staff and the Regional Director for India at the Department of International Trade's Defence and Security Organisation.
Bebb will be accompanied by some 20 British companies who are keen to forge mutually beneficial industrial partnerships and joint ventures with Indian companies.
"The UK and India have much to offer one another in defence: including research, development, collaboration and training," Bebb said in the statement.
"We want to work in partnership with India to build on our shared mutual knowledge, security and prosperity.
"We have a range of world-class capabilities across the air, land, maritime, cyber and space domain and we are encouraging UK and Indian companies to innovate, develop and sustain long-term industrial partnerships to meet our shared requirements and to launch new products and capabilities into the global marketplace."
The India-Britain relationship was elevated to that of a Strategic Partnership in 2004, which was further strengthened by the visit of Prime Minister Narendra Modi to Britain in 2015.
Modi will again travel to Britain next week during which he will participate in a bilateral summit with his British counterpart Theresa May and the Commonwealth Heads of Government Meeting.
Cooperation in the defence sector is an important pillar of cooperation between India and Britain.
Joint exercises and wide ranging exchanges between the three defence services of the two countries are conducted regularly.
The last army joint exercise 'Ajeya Warrior' was held in Bikaner, Rajasthan, in December last year.