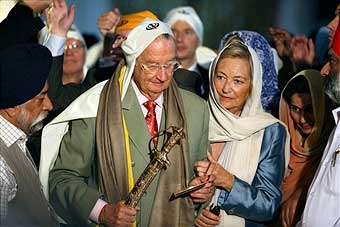 New Delhi, Oct 28  Belgian King Philippe and Queen Mathilde will arrive here on November 5 on a week-long visit to India at the invitation of President Ram Nath Kovind, the External Affairs Ministry announced on Friday.
This will be King Philippe's first state visit to India following his ascension to the throne in 2013.
"The visit would further strengthen the historical strong ties between the two countries," according to a statement issued by the ministry.
"Belgium was also among the first European countries to establish a diplomatic mission in India after Independence," it stated.
King Philippe and Queen Mathilde will be accompanied by six ministers and a high-powered business delegation comprising CEOs of 86 Belgian companies, 13 chiefs of academic institutions and 29 members from the media.
According to the statement, India is Belgium's second largest export destination and third largest trade partner outside the European Union (EU).
"In 2016-17, our bilateral trade amounted to $13.28 billion of which exports from India to Belgium accounted for $5.65 billion while imports from Belgium accounted for $6.62 billion," it said.
Diamond trade overwhelmingly dominates Indo-Belgian commerce and trade in gems and jewellery constitutes over 75 per cent of the bilateral trade, with diamonds making up more than 80 per cent of Belgian exports and more than 40 per cent of Belgian imports from India.
Citing data from the Department of Industrial Policy and Promotion, the statement said that Belgium's cumulative investments in India is over $1.01 billion for the period April 2000-June 2017.
The Indian diaspora in Belgium numbers around 18,000, according to Belgian government estimates. Of this nearly 10,000 are Indian citizens. Around 1,500 Indian IT professionals work for Belgian companies along with around 800 Indian students in various universities.
Prime Minister Narendra Modi visited Belgium in March 2016 at the invitation of his Belgian counterpart Charles Michel.
Then Belgian King Albert II and Queen Paola visited India in November 2008.