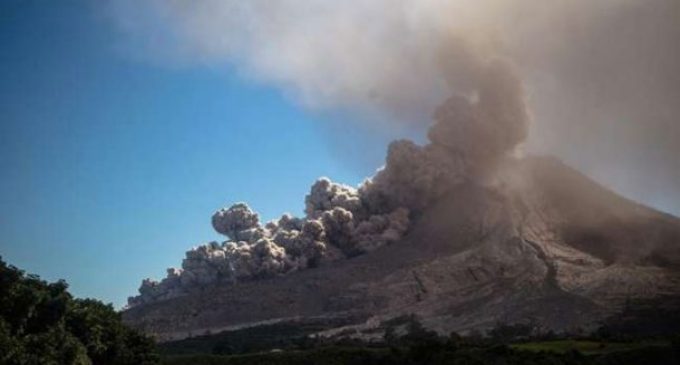 Jakarta, Nov 27 (IANS) The Ngurah Rai International Airport on the Indonesian island of Bali suspended operations on Monday due to an increased alert level of the Agung volcano on the island.
Mount Agung, which has been ejecting ash and lava since November 25, has now an "imminent" risk of a major eruption, Efe news reported quoting an official.
Hundreds of flights have been cancelled, and tens of thousands of passengers have been affected.
The airport closed early on Monday and will remain so till Tuesday with regular six-hour checks, said the Director of Information for the Indonesian National Disaster Management Agency (BNPB), Sutopo Purwo Nugroho, in a statement.
"Due to the closure, all flights both arriving and departing from Ngurah Rai Airport will be cancelled until further notice," the statement said.
"Continuous ash puffs are sometimes accompanied by explosive eruptions accompanied by a weak sound of boom," Nugroho added.
The decision to close the airport came one hour after authorities raised the eruption alert level from three to four (the maximum) and extended the safety radius around the crater of the volcano to 10 km.
Located in the east of the island, in the district of Karangasem and far from most tourist attractions, Mount Agung has been spewing ash between 2,000 and 3,400 metres high into the sky in the last few hours.
The ash cloud also caused the closure of the international airport on the island of Lombok on Sunday afternoon, which triggered the authorities to recommend the use of protective masks for the population.
Residents of Karangasem district who have not left the security zone on their own are being evacuated, although the authorities have not yet provided a number of those affected.
This is Mount Agung's first volcanic eruption since 1963, when the ejection of magma lasted almost a year and caused more than 1,100 deaths.
Bali is the main tourist destination in Indonesia, with an annual influx of around 5.4 million foreign tourists, according to official data.
The Indonesian archipelago sits within the so-called "Ring of Fire" of the Pacific, an area of great seismic and volcanic activity that is shaken by thousands of tremors every year, most of small magnitude.
Source : Sarkaritel.com