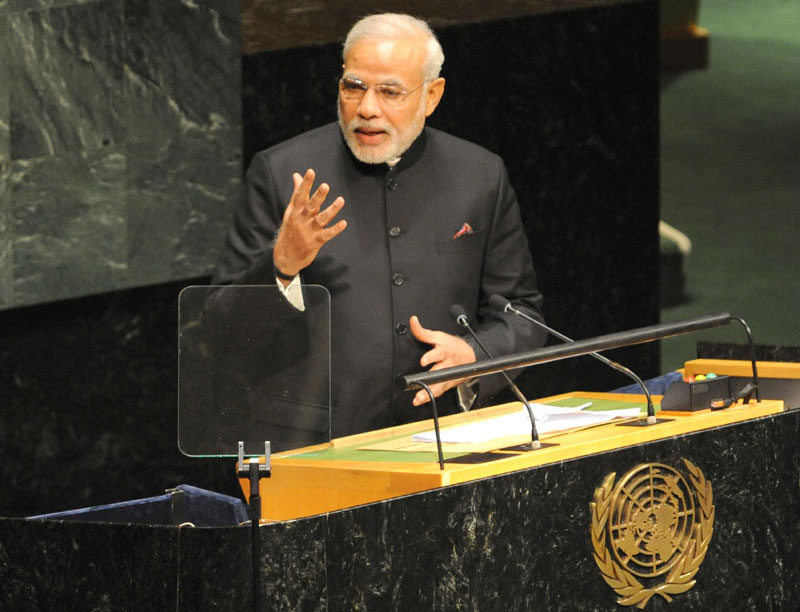 United Nations, Sep 27 Prime Minister Narendra Modi Saturday urged world leaders to put their "differences aside" and come together and curb extremism by urgently adopting the United Nations' international convention against terrorism.
Debuting at the United Nations as the prime minister of India, Modi in his address to the 69th session of the General Assembly said that terrorism has spread far and wide and that there was hardly any country that has stayed untouched by it.
"Terrorism is taking new shapes and new names. No country, big or small, in the north or the south, east or west, is free from its threat. Are we really making concerted international efforts to fight these forces, or are we still hobbled by our politics, our division, our discrimination between good and bad terrorism…"
In perhaps a tangential reference to Pakistan, Modi said some countries still allowed terrorism to grow on their "territory or use terrorism as instruments of their policy".
Modi did not directly name the Islamic State terror group that controls large swathes of territory in Iraq and Syria where it has declared an Islamic caliphate and which would be governed according to Islamist laws.
"We welcome efforts to combat terrorism's resurgence in West Asia, which is affecting countries near and far. The effort should involve the support of all countries in the region," he said, referring to the US-led airstrikes on IS targets in Iraq and Syria.
He said "seas, space and cyber space have become new instruments of prosperity, they could also become a new theatre of conflicts".
He said the threats to world peace and stability have increased "more than ever" the need for a Comprehensive Convention on International Terrorism, a deadlocked treaty that criminalises all forms of terrorism and denies terrorists, their financiers and supporters access to funds, arms, and safe havens.
"We should put aside our differences and mount a concerted international effort to combat terrorism and extremism. As a symbol of this effort, I urge you to adopt the Comprehensive Convention on International Terrorism," Modi said.
He said he used to raise the issue with world leaders 20 years ago and "they wouldn't understand" the danger terrorism posed to world peace.
"They would ignore it and say it is a law and order problem," he said.
He said India, despite being part of the developing world, was "prepared to share our modest resources with those countries that need this assistance as much as we do".
"This is a time of great flux and change. The world is witnessing tensions and turmoil on a scale rarely seen in recent history. There are no major wars, but tensions and conflicts abound and there is absence of real peace and uncertainty about the future."
To further assert his calls on countering terrorism, Modi said that piracy has also posed a serious threat to the world's economic development.
"An integrating Asia Pacific region is still concerned about maritime security that is fundamental to its future," he said.
"Europe faces risk of new division. In West Asia, extremism and fault lines are growing. Our own region continues to face the destabilising threat of terrorism. Africa faces the twin threat of rising terrorism and a health crisis," the prime minister said