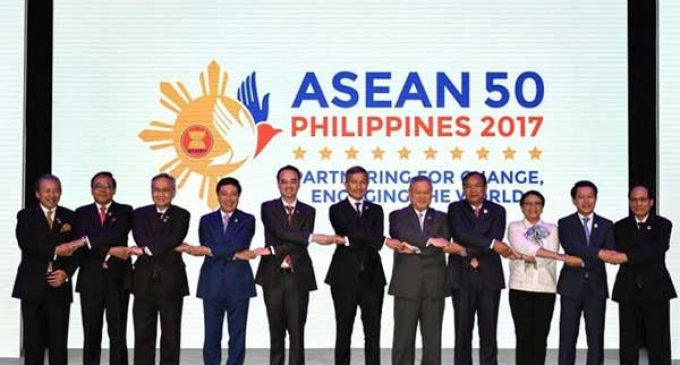 Clark (the Philippines), Oct 23  The ASEAN Defence Ministers began their high-level security dialogue on Monday to discuss security issues, including counter-terrorism, drug trafficking and maritime conflicts, facing the region .
They held a breakfast meeting before the formal opening of the ASEAN Association of Southeast Asian Nations (ASEAN) Defence Ministers' Meeting (ADMM) to specifically discuss the threat of violent extremism in the region, Xinhua quoted Arsenio Andolong, chief of the Department of the Philippine National Defence' Public Affairs Service, as saying.
He said Malaysia initiated the breakfast meeting before the ADMM officially opened.
The Philippines, chair of the ASEAN this year, is hosting the 11th ADMM and 4th ASEAN Defence Ministers' Meeting-Plus (ADMM-Plus) that include eight of ASEAN's dialogue partners namely Australia, China, India, Japan, New Zealand, South Korea, Russia and the US.
Philippine Defence Secretary Delfin Lorenzana said his nation will push several initiatives, including "a three-year work programme that will focus on streamlining, synergizing and rationalizing ADMM efforts", during the two-day meeting.
The meeting hopes to come up "with frameworks for maritime interaction, education and training exchanges, aircraft encounters among others", he added.
The ADMM, which is the highest defence consultative and cooperative mechanism in the ASEAN, aims to promote mutual trust and confidence through greater understanding of defence and security challenges as well as enhancement of transparency and openness among the 10 ASEAN member states – Brunei, Cambodia, Indonesia, Laos, Malaysia, Myanmar, the Philippines, Singapore, Thailand and Vietnam.
The ADMM-Plus is a platform for the ASEAN Defence Ministers to engage their dialogue partners from Asia and the Pacific.