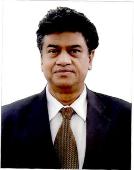 New Delhi, April 04 Anwar Haleem (IFS:1991), presently Additional Secretary in the National Defence College, has been appointed as the next Ambassador of India to the Hashemite Kingdom of Jordan.
Anwar Haleem joined the Indian Foregin Service in 1991 . He has served at Indian missions in Egypt, UAE and Saudi Arabia. He has vast exprience of working in different divisions of the Ministory of External Affairs.
Mr Anwar Haleem obtained his MA in Indian History and MA in International Studies from JNU. He joined M Phil in Disarmament Division as JRF Scholars. He has MBA Finance & LLB. He has a very distinguished academic record and varied experience in public affairs.
Shri Haleem has served in different capacities in foreign missions,covering range of political,economic,cultural and community affairs activities as well as crisis management. He has Arabic as his foreign language with vast experience of Gulf and Muslims countries. At South Block, he was the Desk officer for Sri Lanka ( 1702 – 1705) and later Director for Latin American Countries, Director SAARC (1705-1707) and Director Gulf ( 1707 – 2010). He has served as Deputy Director General of India Council of cultural Relations( ICCR), India Council of World Affairs( ICWA ) and Joint Secretary in MEA. He is single. His hobbies are reading, meeting people and music. He has been editor of " Gagananchal" a Hindi magazine & "India Quaterly", published by SAGE. He has published works on Technology Transfer from MacGraw Hill.