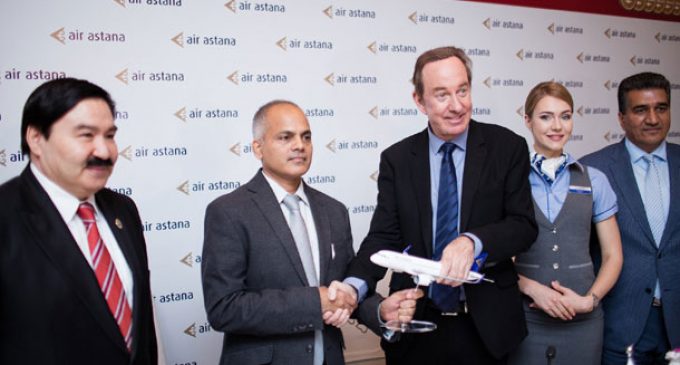 Air Astana planning to start from Mumbai in Year 2019
"Our first priority is to get our Delhi to Astana flight up to daily", Peter Foster, President & CEO, Air Astana
New Delhi, 15 November 2017: Kazakhstan's Skytrax award-winning full-service carrier Air Astana is celebrating 13 years of connecting India to Kazakhstan and Eurasia. Air Astana commenced operations to India in 2004 with flights between Almaty and New Delhi. Today, the airline operates 10 flights between Kazakhstan and India each week, including adaily service between Almaty and New Delhi and three frequencies between Astana and New Delhi.
Air Astana launched direct flights from Astana, the capital of Kazakhstan, to the capital of India, New Delhi, on 2 July 2017. The three-times weekly service currently operates using Airbus A320 and Embraer 190 aircraft. The carrier's plans for the future will see an increase in the number of Astana– New Delhi flights from three to five times a week. Air Astana is also exploring the opportunity of launching new flights from Kazakhstan to other cities in India.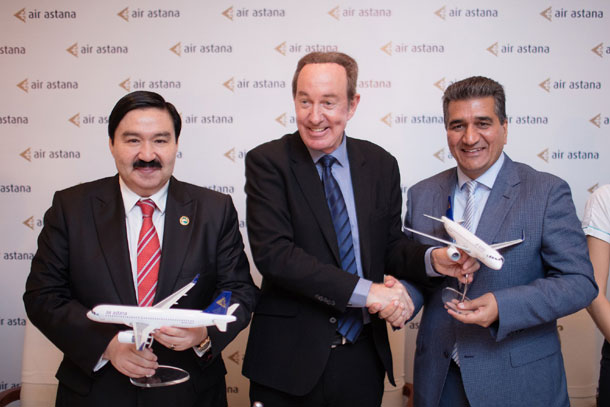 Bulat Sarsenbayev, Ambassador of Republic of Kazakhstan to India, said that his government is working to ease visa norms to encourage more transit-passengers. "72-hour free visa to Indian people is still under consideration, and I hope it will be done," Sarsenbayev said.
Travel between the two countries continues to grow. The total number of passengers carried between Kazakhstan and India during 2017 reached 43 459, an increase of 43% compared with2016. Furthermore, Air Astana offers its passenger travelling via Almaty convenient connections to other international destinations such as Moscow, St. Petersburg, Kiev, Istanbul, Tbilisi and Bishkek.
As a result the number of transit passengers travelling from New Delhi via Almaty to other international destinations grew by 33% year-over-year in 2016. Passengers travelling via Astana are also offered a range of flight connections, with services to international destinations including Moscow, St. Petersburg, Istanbul, Kiev, Baku and Tbilisi as well as to many cities across Kazakhstan.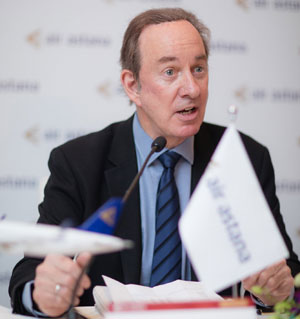 Peter Foster, President and Chief Executive Officer of Air Astana, said, "India is an important destination on Air Astana's network. We are proud to have played a significant role in connecting business as well as leisure passengers from Kazakhstan to India over the past 13 years. In addition, Air Astana is proud to add New Delhi to our growing network of flights to global capitals. New Delhi is a great new destination for us and we expect to carry both business travellers and holidaymakers between the two capitals, and also between India and cities in Russia and othercountries on our network to and from Astana."
Air Astana is committed to offering business as well as leisure passengers to and from India access to cutting-edge technology and quality onboard services. The airline aims to constant enhance the passenger experience whether on-board or on the ground with products such as the MyUpgrade
service, Air Astana Stopover Holidays, KCTV Stream and many others. These efforts earned Air Astana the prestigious 4-Star service excellence rating by Skytrax. The airline has also been awarded the accolade of 'Best Airline in Central Asia and India' for six consecutive years and 'Best
Airline Staff Service in Central Asia/India' five times. Air Astana is proud to share this award with Indigo Airlines, which has been voted "Best Low Cost Airline Central Asia and India" foreight consecutive years.
The airline operates a fleet of 31 aircraft, including Boeing 767-300 ER, Boeing 757-200, Airbus A320s including one A320 neo and Embraer 190. It plans to add 10 Airbus A320 neo family aircraft, five Embraer E190-E2 aircraft and three Boeing 737 over the next three years. Air Astana serves 46 international and 20 domestic destinations