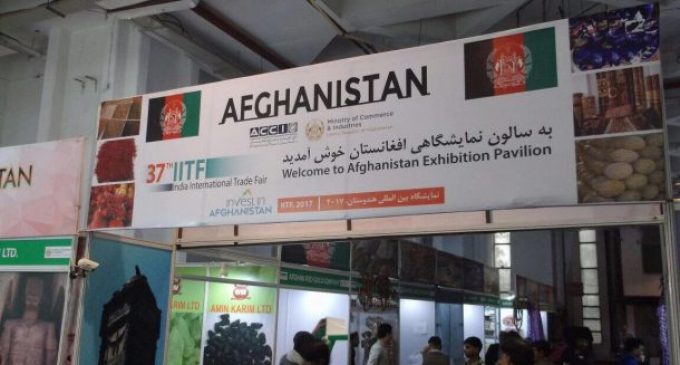 By Neelapu Shanti
Embassy of Afghanistan
New Delhi, Nov 30 Afghanistan has taken the lead to win the Silver medal for 'Excellence in Display' in the 37th India International Trade Fair held at Pragati Maidan in New Delhi. The award was conferred to Afghanistan Chamber of Commerce and Industry (ACCI) by Sh. C.R. Chaudhry, Minister of Commerce and Industry at the closing ceremony. The medal bears India-Afghanistan's deep embedded relation of culture, trade and people to people contact.
Extending India's economic initiatives on global platform through trade fair, manifests multi-faceted trade opportunities which is driven by Prime Minister Narendera Modi's progressive reform of 'Make in India'. By and large Afghanistan's trade prospects with India can be transformed into an engine of socio-economic level. Scaling up India-Afghanistan relationship, the India-International trade fair has built a strong economic bond that has strengthen and nurtured with regional integration andcreatingavenues for prosperity and development.
Afghanistan's participation in the 37th IITF is glorious as the traders have bagged the opportunity for spreading their business wings not only in India but reaching across to other regions of the world. The glimpse of Afghanistan's pavilion gives elevating trade perspectives as traders dealing in dry fruits, saffron, jewellery, carpets and rugs; clothing had made good profit this year.
While taking a stroll in the Afghanistan's pavilion on the last day of the fair, Afghan traders are busy in last minute deal with the buyers. Afghanistan's dry fruits are globally acknowledged for its high quality. The 80 Afghan stalls including 32women stall which is larger than any other country gives massive hope for economic expansion between India and Afghanistan.
The participation of 32 Afghan women stalls gives an overview of an increasing recognition that women entrepreneurs are the new engines for inclusive and sustainable industrial growth, and are the rising stars of economies in developing countries like Afghanistan.Women in Afghanistan have always contributed in the production in a big way.
Afghan women entrepreneurs hope small and medium enterprises (SMEs) are a key economic driver of Afghanistan's development. Women already play a pivotal role in Afghan industries, such as agriculture, jewelry, carpets, and embroidery.  IITF brings traders from all over Afghanistan to showcase their products and for business opportunities.
IITF is a marvellous opportunity to introduce Afghan items to India and showcase Afghanistan's potential and economic vibrancy and eagerness to grow. Over the years Afghanistan has generated market in India.
Boosting trade and investment, reconstruction activities and ways to strengthen defence and security partnership, India's relation with Afghanistan is surging ahead with vibrant overview of multiple cultural and civilizational connections that binds both the countries and reminds us that we fashion a modern and contemporary partnership, this shared civilizational heritage can serve as a guiding light for deepening and broadening the canvas of this mutually energizing partnership.