By Neelapu Shanti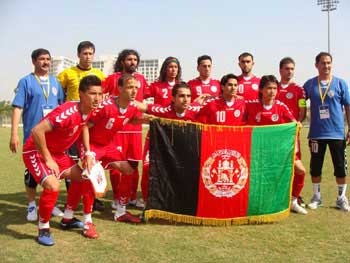 Afghanistan is gaining visibility in sports and this is quite evident with an increasing participation in a span of five years. Sports have been a way of life for the people of Afghanistan, a positive sign to synergize for development and uplifting the spirit of the people of their country. The brimming competencies in Afghanistan's sporting activity have been more prominent in the recent times. Afghanistan is getting recognition in sports and today the country is proving to be more dynamic in taking its notch up in cricket, football, Taekwondo, basketball, volleyball, golf, handball, boxing, taekwondo, weightlifting, bodybuilding, track and field, skating, bowling, snooker, chess.
Afghanistan has always been portrayed through the lens of dim light and only the negative aspects were highlighted but there is some positivity and one of the aspects are sports which Afghan people are fond of. Sport is playing a vital role in bringing Afghan people together and is an expression of peace for showing the world that there is life beyond war and bloodshed in Afghanistan.
The India-Afghanistan relations have taken to great heights and India's support in promoting sports in Afghanistan has added new dimension in the historic relation between two nations. Recently Indian Government provided aid of USD 1 Million to Afghanistan for the construction of the Kandahar International Cricket Stadium which will facilitate Afghan Cricketers to enhance their skill. Afghanistan's entry in the global cricket platform spells positivity which has progressed immensely over the years to step in as a well-balanced and an organized team. Cricket is the most popular sport in Afghanistan.A country which is hit by decades of war, however, the enthusiasm for sports have never leveled down and Afghan players come to compete to win in the global arena.
The spirit is commendable and most appreciated in the region and across. Nabi and Rashid were the first players from Afghanistan to appear in the Indian Premier League and gained recognition for their prowess and confidence in the sport. Rashid Khan from Afghanistan took part in the IPL Premier League in Hyderabad has given mind blowing performance with the Indian players in the IPL last year. Rashid Khan has also bagged Associate Cricketer of the year recently for taking incredible 60 wickets in 2017 alone – a record for an Associate player in a calendar – and 43 in ODIs.
Afghanistan's affinity for cricket began after the 2010 T20 World Cup and then after the journey started towards progression and the country has drawn lot of appreciation and support not only in Afghanistan but is acknowledged worldwide. The announcement of Afghanistan's full membership status in the International Cricket Council, the eligibility to play test series last year is a biggest milestone. In June this year, the Afghan players will be playing the first Test series against India in Bengaluru.
Afghanistan has won over Sri Lanka in the ICC Under-19 World Cup 2018. Afghanistan's best performance until now came in 2014, when they shocked Australia in the group stages to qualify for the quarter-finals, eventually finishing seventh.
At present, the country is gaining popularity in every sphere of sports. Afghanistan is receiving lot of support from the public for improving infrastructure and many more grounds are being built for thriving sporting activities. Afghanistan is an emerging and a rising star in cricket and the country has talented youth population to embark in sports which requires adequate training to polish them and prepare for awinning streak spirit.The attitude to do better and the energy of the Afghan boys are appreciable at every level.
The India-Afghanistan relation remains significant and is growing undauntedly.  Over the years both the countries shares close ties that have been constantly leveraged by trust, mutual respect, and people-to-people contact. As India's wider neighbourhood policy reflects the relation between the two countries is of strategic importance and more importantly the progress and prosperity of Afghanistan is envisioned in every aspect which includes sports. Relations between the two countries is transcended through various prisms that reflects India's unflinching support through infrastructural developmental projects, education, various training programmes, enhanced trade relations, creating trade links and many more.Afghanistan has not been able to play at home for security reasons, and India has often been their home base, recently at Greater Noida.
Afghanistan has been working hard to bring pride to their homeland in spite of prolonged war.Afghans have proved to the world that they have enlivened spirit to win and perform better. Sporting is not only restricted to men but women are encouraged to take active participation, resulting womenwomen have taken up various types of sports such as, basketball, volleyball, football, as well as martial arts, and boxing.