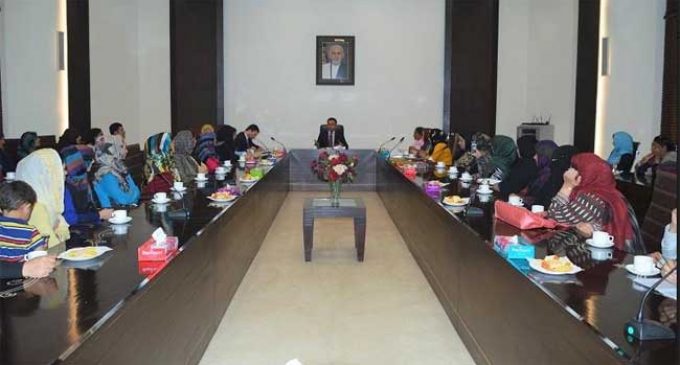 By Neelapu Shanti
A two-month long skill based training programme offered by Self Employed Women's Association (SEWA) has brought 32 Afghan women to India, imparting training on Food Processing i.e. Bakery products, Sweets and Savouries making,Garment making including cutting and pattern making.Aspire to be the part of inclusive growth of their country and to be self-reliant they acquire trainings through the SEWA trainings since 2008.
The strategic partnership between India and Afghanistan is aimed to contribute for regional stability and prosperity. Indian NGO, SEWA is supporting Afghan women in a big way in generating a productive livelihood and also to become contributor for the economic growth of their country.
Recently thirty-two Afghan women have undergone training in SEWA.For sustained peace, progress and gender equality, women empowerment is a driving factor for growth prospects in Afghanistan.  Most of the Afghan women have come from Kabul, Kandahar and Mazar-E- Sharif. Afghan women have been benefited immensely through skill-based training programmes conducted by SEWA since 2008 and this in turn is harnessing strengths and capabilities of India and Afghanistan. SEWA has trained almost 1500 Afghan women so far and this is the fourth batch to India. Dream to become self-reliant Afghan women have come to India in pursuit of knowledge so that when they go back to their homeland they can stand on their own feet and impart knowledge to others in their country.
Sabah Bagh-e-khazanah an Afghan federation comprising of 22 women groups are the Master figures who impart their knowledge to women fraternity in Afghanistan. They have acquired skills to formulate their business plans and supporting other women on community based programmes.
Afghan women entrepreneurs who were trained through SEWA have made a profit of 1, 00,000 USD this year.
Afghanistan's Ambassador to India, Dr.SahidaAbdali met with 32 Afghan women trainees in New Delhirecently. He stated that "the continued programme of SEWA for Afghan women is generating sustainable livelihood and they must multiply in order to bring sustained development that need to disseminate across all the regions in Afghanistan".
While interacting with these Afghan women one can draw lot of inspiration from them. Despite prevailing hardships they aspire to grow and to take stride in the economic development of their country which is disturbed by civil war since decades. One among them recited the holy Quran, strength a motivation for them and an enduring spirit to seek development for their country. Most of the Afghan women trainees had prospective dreams and stories in their heart to share. 
Afghan women entrepreneurs discussed about various training programmes imparted through SEWA that included food processing, Garment making, gems cutting etc.
Dr.Abdali addressed the Afghan women participants as they share their knowledge and skills through this programme. PratibhaPandya, Admin Officer, SEWA discussed the upcoming training programmes for Afghan women.
Dr.Abdali stated that "inclusion of educational programmes will benefit in a big way and expects continued service that will help Afghan women in generating sustainable livelihood".
SEWA in the upcoming projects will include educational programmes including spoken English, Digital learning and financial literacy. All Afghan sisters expressed desire to stand on their own to become self-reliant by earning income using the skills they acquired through these SEWA trainings. Some of them want to help other sisters by imparting similar trainings back home.Some of them want to start their own small business but need access to capital through bank loan or small restaurant.They all strongly demanded and requested for hand holding support facilitation, market linkages etc.
Such training programmes are important as it sets women's significant role in the growth of the country. These also envision the future and strategize about how women must play a leading role in building peace in Afghanistan,accelerating of the process of economic development in the country. Women empowerment builds a constructive force that leads to peace, progress and prosperity in any country including Afghanistan.