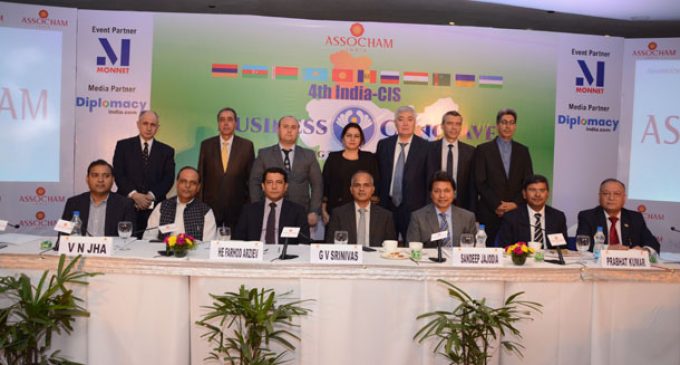 Diplomacyindia.com got associated with ASSOCHAM as Media Partner in the Event
New Delhi, Nov 15 ASSOCHAM organized the business session "4th India–CIS Business Conclave: Charting the Roadmap 2020" in New Delhi on 15th November 2017. The conclave was attended by ambassadors, diplomats, government officials and Indian trade bodies. This conclave was organized with an aim to boost bilateral trade between India and CIS countries. Apart from the CIS region representatives from other missions like Cuba, Iran and Greece were also present. The event was also attended by Mr. Prabhat Kumar, Ambassador-Designate to The Republic of Kazakhstan.
The event was commenced by Mr Sandeep Jajodia, President, ASSOCHAM and CMD, Monnet Group who welcomed the Ambassadors and distinguished guests attending the meeting, and praised India-CIS's growing trade relations, and new transport networks through the newly developed Chabahar port and Bandar Abbas port in Iran. This was followed by a brief video message from the Minister of Commerce & Industry of India Mr Suresh Prabhu who was in Moscow to attend Shanghai Cooperation Organisation(SCO) summit and extolled the efforts of ASSOCHAM to bolster trade relations with the CIS countries.
The welcome address was followed by presentations and addresses from the Ambassadors and Counsellors from Uzbekistan, Belarus, Kazakhstan, and Russia.
Also present at the conclave was, Mr. G V Srinavas, Joint Secretary (Eurasia), Ministry of External Affairs, Government of India addressing the gathering stated that the industry players should take an initiative to understand the actual potential of CIS region and should aggressively expand their business in the region in real terms. He also mentioned that Indian business should explore the CIS market with a focused direction and they should keep specific prominent sectors in mind while entering this market
H.E Farhod Arziev, Ambassador, Embassy of Uzbekistan in his address said that he believes that India and Uzbekistan share a strong trade partners and hopes that the ties will grow stronger in the future between both the countries.
Mr Avaz Khodjiev, Counsellor (Trade and Economic), Embassy of Uzbekistan began his address by thanking and appreciating ASSOCHAM's effort to improve economic ties between India and Central Asian region. He then touched upon the present and future of India-Uzbekistan trade relations and, Uzbekistan's strategy for economic development that focused on reduction of trade barriers and liberalisation, microeconomic activities, development of small businesses and entrepreneurs and FDI. This was later followed by a short presentation elaborating Uzbekistan's current economic environment, special economic zones and future projects.
Mr Andrei Karpechkir, Trade Counsellor, Embassy of Belarus in his speech applauded the commercial contracts signed during the latest visit by the President of Belarus Alexander Lukashenko on a two day visit to New Delhi during September earlier this year. He also presented Belarus's different economic rankings by international organisations and invited Indian business to exploit Belarus's membership to the Eurasian Economic Union.
Mr Shamil Sultangozhin, Minister Counsellor, Embassy of Kazakhstan lauded the historical relationship between India and Kazakhstan, and highlighted the geographical advantages of Kazakhstan as the only country sharing direct borders with two of the five BRICS nations. He also presented Kazakhstan as an attractive investment destination with a stable political system, most favourable tax rates among CIS countries, rich raw materials, rapidly growing manufacturing sector and growing tourism.
Mr Alexander Shchegolev, Deputy Trade Commissioner, The Trade Representation of the Russian Federation in the Republic of India, Embassy of the Russian Federation, began his address by explaining that the Russian Embassy in India is divided into to parts, The Embassy of the Russian federation that focuses on the political relations, and The Trade Representation of the Russian Federation that focuses on trade and economic relations, and also handles applications for business visas. Thus, he advised Indian businesses to directly apply to The Trade Representation of the Russian Federation for business visas.
He also expressed India and Russia to further enhance their trade and investment relationship and conclude negotiations for the free trade agreement as early as possible. He also highlighted Russia's active participation in Make in India project by manufacturing helicopters and nuclear reactors in India. He also informed the guests regarding the the North–South Transport Corridor connecting Bandar Abbas port in Iran to Russia, which is faster than the traditional sea route from the Arabian sea to Baltic sea via the Mediterranean sea. He also presented that businesses can now trade in national currencies via Sberbank of Russia.
After the conclusion of addresses and presentations by the counsellors, Mr Vikas Khanduri, CEO, Viva Voyages and Holiday merchants gave a short presentation on the travel opportunities in Central Asia and its potential to be hot wedding and Bollywood destination. His presentation was followed Mr V. N. Jha, Editor Diplomacyindia.com who expressed his admiration for the growing trade relations between India and Central Asia. He highlighted PM Modi's emphasis on connectivity being the corner stone of Indian Policy in Central Asia and CIS States. He also said that events like this go a long way in disseminating information about business opportunities at B2B level,
The meeting was concluded by closing remarks from Mr G. V. Srinivas Joint Secretary (Eurasia) from the Ministry of External Affairs, Government of India and, Mr Prabhat Kumar, Indian Ambassador to Kazakhstan, an Q&A session, a vote of thanks by Mr D. S. Rawat, Secretary General, ASSOCHAM, and a networking lunch.
Edited & Contributed by : Mr. Ritwik Bhardwaj, Diplomacyindia.com