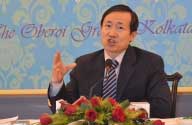 Kolkata, Jan 9  Highlighting the need for good relations between India and China to strengthen economic ties, a Chinese diplomat on Tuesday said about 30 Chinese companies will be participating in the Bengal Global Business Summit (BGBS) scheduled to be held here January 16-17.
"Good political relations between China and India, certainly, contribute to further growth of business ties between the two countries. Actually, China and India relations are at important juncture and we look forward for new age of fast growth of political and economic ties between two countries," said Ma Zhanwu, Consul General of China in Kolkata.A
Chinese businesses "attach great importance" to the opportunities presented by eastern India and by West Bengal, he said.
"This year, about 30 Chinese companies will be participating in the BGBS. Out of those 10 Chinese companies will be visiting India for the first time to explore business opportunities and 20 others already have ongoing projects in India," he told reporters.
Of the 10 companies coming foor the first time, four are from Jiangsu, four from Shandong and one from Yunnan Province.
According to Ma, China aims to invest $200 billion abroad every year but Chinese companies together made "a total investment of $100 billion aboard in the last year" as they could "not find the proper projects".
"This year, the Chinese companies aim to utilise BGBS and other opportunities towards fulfilling that goal," he said.
Ma also said the BCIM (Bangladesh-China-India-Myanmar) economic corridor would be developed with joint efforts by the four countries.
"We hope to see the signing of Free Trade Agreement between the two countries. We hope that two countries can combine their well know strategies. India has Act East policy and in China, we have proposed the Belt and Road initiative…this combined strategies can create more trust and opportunities to the business people," he added.